Before you dive into coding and computer science, you will need to tweak a few classroom criterias.

Coding is no longer enough.

As stated in one of my other posts, there are plenty more parents wanting their children to explore computer science than there are schools that offer this program.

In 2020, there is going to be 50 billion objects connected to the internet than people on this planet.

New technologies such as self-driving cars will eliminate jobs but will create thousands of new ones.

Brian Aspinall mentioned in one of his latest TED Talks:

"People no longer believe they need post-secondary education to be successful in life. We are in the era of startups, makerspace and 3D printing.

Now, I'm not saying that coding can happen every day, during every subject.

But what I am going to say is that it needs to be exposed.

Recently, a student at my local school asked "Why are you even bothering with coding? It is not important and nobody wants to be involved." I did not react immediately, instead, I thought about what this student said and thought about why I was doing coding.

Later in the day, I approached the student and told him "This is why I'm coding, and why I want others to be involved. In 2020, there are going to be 1 000 000 computer science jobs and 750 000 of those jobs will not be filled. This is a problem, and you should know how to code. This is the 21st century, anyway."

The next week the student attended a coding club meeting to see what it was all about.

They told me they didn't enjoy coding. Which is fine, but it needs to be exposed.

For those of you that don't know, I am on a mission to become an elementary school teacher. I love the computer science field, but how many other teachers do? How many teachers enrol into computer science and go into the teaching field? That's the real question.

Later in the month, I was in a bit of a mood to explain why this is important to the rest of the club. I told everyone that there is a reason we are doing it and not because it is trending.

These students were not at all aware that there will be so many computer science jobs in the next 4 years, and were completely shocked.

Students should know how to use this technology, why they're using the technology and how it can help them in the future.

---

The HOW:

Students first need to be exposed to computer science, show them the basics and let them figure out the rest. This lets them problem solve, collaborate and debug their programs. This can help them in the future by having the skill set to get a job in the computer science field.

---

The why:

The reason why this is so important is because computer science jobs are so well paying, and they will be important.

These jobs are important because new technologies need to continuously be created, and students should know that they can change the world.
Powered by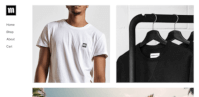 Create your own unique website with customizable templates.